Amal Clooney calls out Aung San Suu Kyi
|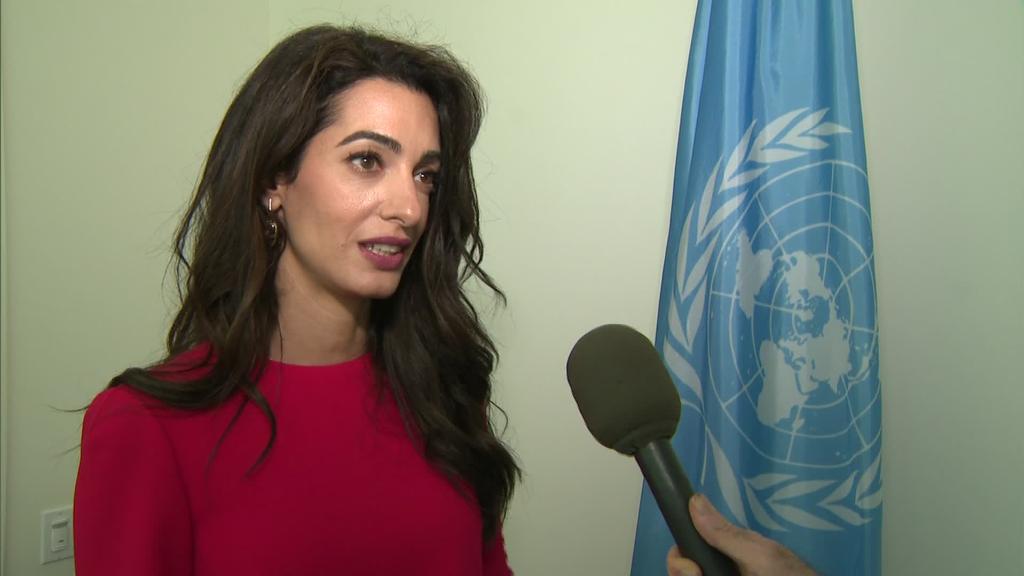 Prominent human rights lawyer Amal Clooney on Friday called on Myanmar officials to release two Reuters journalists who have been imprisoned since last year.
Clooney represents the reporters Wa Lone and Kyaw Soe Oo, who were arrested in December and accused of exposing state secrets. They were sentenced to seven years in prison September 3. Both men pleaded not guilty.
"Two innocent men are in prison in Myanmar for doing nothing more than tell the truth," Clooney said at an event held at the United Nations by the Committee to Protect Journalists. The event was intended to call attention to several cases involving journalists who have been jailed around the world, including in Myanmar, Bangladesh, Egypt and Kyrgyzstan.
"You don't need to take my word for it," she added. "Every single observer of this trial has agreed that it was a farce."
Clooney has been representing Wa Lone and Kyaw Soe Oo since March, but Friday marked her first public appearance related to the case. She called the story laid out by prosecutors "not only fabricated, but totally implausible."
According to Reuters, Wa Lone and Kyaw Soe Oo were detained late last year while working on stories about the killings of Rohingya Muslims, a minority population in Myanmar's Rakhine state.
Rohingya Muslims have fled the country in the wake of a military crackdown. Both the UN and the US have described the campaign as ethnic cleansing. Myanmar's military has denied most of the allegations.
Earlier this month, Aung San Suu Kyi, the country's de facto leader, said at the World Economic Forum in Vietnam that there were ways the refugee situation "could have been handled better," but she added that her government had attempted to ensure "development and rule of law" in the Rakhine state.
In February, while the reporters were still awaiting trial, Reuters published a special investigation with their bylines. It documented a massacre of 10 Rohingya men reportedly carried out by Buddhist villagers and Myanmar troops.
Reuters described the groundbreaking report as the first time that soldiers and paramilitary police had been implicated in testimony from security personnel.
The families of the two men are asking for a pardon, Clooney said — a measure she described as the only way to free them.
Clooney also appealed directly to Suu Kyi. The Nobel laureate was once praised for helping Myanmar transition from a military junta to semi-democracy, but her legacy has been questioned in the wake of the Rohingya crisis.
"She has spoken so frequently of the need for the rule of law," Clooney said. "We are hopeful that since these are the principles she has herself espoused, that she will step in and try and correct the injustice in this case."
So far, Suu Kyi has defended the government's decision. At the forum in Vietnam, she said the reporters "were not jailed because they were journalists" but for breaking the country's colonial-era Official Secrets Act.
"I wonder whether very many people have actually read the summary of the judgment which had nothing to do with freedom of expression at all, it had to do with the Official Secrets Act. But I don't think anybody has actually bothered to read it," Suu Kyi said, adding the two men were free to appeal the judgment.
–CNNMoney's Charles Riley contributed to this story.
CNNMoney (New York) First published September 28, 2018: 2:32 PM ET