Tinder co-founders claim they're owed $2 billion
|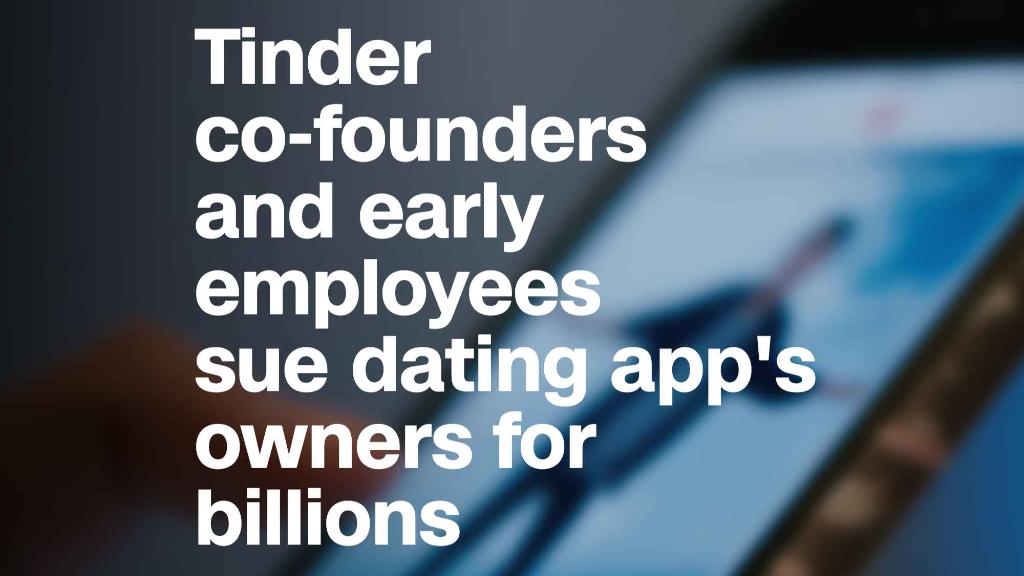 Co-founders of Tinder and eight other former and current executives of the popular dating app are suing the service's current owners, alleging that they manipulated the valuation of the company to deny them of billions of dollars they were owed.
The suit, filed Tuesday in state court in New York, seeks at least $2 billion in damages from Match Group (MTCH) and its parent company, IAC/InterActiveCorp (IAC). The plaintiffs are represented by Orin Snyder of Gibson Dunn, who has represented some of the biggest companies in tech, including Facebook, Apple and Uber.
The dispute centers on an analysis of Tinder done in 2017 by Wall Street banks to set a value for stock options received by Sean Rad, a Tinder co-founder, and other early employees. It also includes an allegation of sexual harassment against Tinder's former CEO, Greg Blatt.
IAC issued a statement calling the suit "meritless" and saying it would "vigorously defend" itself against it.
The statement said that Rad and other former executives who left the company a year or more ago "may not like the fact that Tinder has experienced enormous success following their respective departures, but sour grapes alone do not a lawsuit make."
Tinder's 2017 valuation was set at $3 billion, unchanged from a valuation that had been done two years earlier, despite rapid growth in revenue and subscribers. The suit charges that executives with Match and IAC deliberately manipulated the data given to the banks, overestimating expenses and underestimating potential revenue growth, in order to keep the 2017 valuation artificially low. That manipulation allegedly deprived some early Tinder employees of millions, or billions, of dollars.
"They lied about the financial performance. They manipulated financial data, and essentially stole billions of dollars by not paying us what they contractually owe us," Rad said in an interview with CNN. "We're here to preserve our rights and to fight for what's right, for what was promised us."
The suit does not offer an alternative valuation, and when asked by CNN, Rad refused to give an estimate other than to say it was "multiples" of the $3 billion figure.
The suit seeks at least $2 billion in damages, and according to the suit the plaintiffs' options accounted for more than 20% of the company. That would suggest the plaintiffs are alleging that Tinder was undervalued by at least $9 billion, putting its total value at about $12 billion.
But Match Group, which is publicly traded and includes Tinder along with other dating apps, has a market cap of only about $13.5 billion. IAC overall, which is controlled by media magnate Barry Diller and which also includes brands such as Angie's List and The Daily Beast in addition to the services that make up Match, has a market cap of about $16 billion. The price of both stocks slumped immediately after the suit was filed.
Tinder's success is driving much of that value. Last week, shares of Match shot up 17% in a single day and shares of IAC jumped nearly 8% after Match reported huge gains from Tinder. Revenue from Tinder alone was up 136% over the last year, coupled with an 81% increase in the number of subscribers. On an investor call about the earnings report, Match's CFO told investors it now expects Tinder to generate $800 million in revenue this year, which he called a "phenomenal achievement." The suit says that is 75% higher than the 2018 estimate used in the 2017 valuation.
How Tinder was created
The suit provides a fascinating look behind the scenes not only at the operations of Tinder, but also of the kinds of battles that can happen between technology innovators who create new companies and the investors who help to finance their early operations.
Tinder has helped change the way that people meet by gamifying dating. Users can swipe left on a potential date's profile if they aren't interested, and swipe right if they are. If both parties swipe right, it's a match. When it was introduced, the app transformed the online dating experience and paved the way for a number of competitors that iterated on the format. Today, the company says it sees 1.6 billion swipes a day and touts a total of over 20 billion matches.
The suit claims that Rad and others created Tinder largely on their own time, and with their own money, while working on other projects at Hatch Labs, a business incubator IAC runs in New York. The suit says they were told that if Tinder was successful they would receive a "founder friendly ownership" deal and would be given a majority the company. But once Tinder proved successful, they were given options worth only about 20% of the company, according to the suit.
"By the time we had anything in contract, Tinder was already big," Rad said. "The early team gave it their all, and they sacrificed like any founder of any company does, or early employees of any company does. They took risk. We all took risk," Rad said.
How much is Tinder worth?
The share of the company to which the early employees are entitled is not at issue in the suit; they ultimately agreed to the roughly 20% they were given. The question in the lawsuit is the value of that stake.
According to the suit, IAC and Match installed Blatt as Tinder's CEO ahead of the valuation process in order to paint to the banks conducting the valuation a more pessimistic view of Tinder's growth. The suit alleges that Match and IAC downplayed the impact of significant product features that Tinder was set to introduce, like a change that allowed a wider user base, as well as Tinder Gold, a premium version of the app that significantly increased revenue.
"There was hard data that showed that these features are going to have a significant impact on the company," Rad said. "They downplayed the importance of either one of these features even though internally everyone knew how important they were. And then weeks later to the public they are saying how these features are the cornerstone of our growth."
According to the suit, within one week of Tinder Gold's launch, Match's market value increased by $1 billion.
IAC defended the valuation process in its statement.
"The facts are simple: Match Group and the plaintiffs went through a rigorous, contractually-defined valuation process involving two independent global investment banks, and Mr. Rad and his merry band of plaintiffs did not like the outcome," it said. "Mr. Rad has a rich history of outlandish public statements, and this lawsuit contains just another series of them. We look forward to defending our position in court."
IAC said that since Tinder's start it has paid more than $1 billion in equity compensation to Tinder employees including its founders.
During the valuation process, Blatt threatened other executives of Tinder who tried to share accurate information with the banks performing the valuation, according to the suit. Rad told CNN that employees were told they'd be fired if they provided the correct information.
Rad was on the board at the time, but he told CNN that he'd been pushed out of the conversations and was put in a position where he couldn't ensure that the valuation and the information given to the banks were correct. According to the suit, Rad was banned from Tinder's headquarters by Blatt.
"The employees were literally told, and these are my colleagues who built this company with me, were told that if they speak to me, if they provide me with the right information, they can be fired."
Allegations of sexual harassment
The suit also alleges that, soon after he was named CEO of Tinder in late 2016, Blatt groped and sexually harassed Tinder Vice President of Marketing and Communications Rosette Pambakian at a company holiday party. The suit alleges that when Rad notified IAC officials of Blatt's conduct, they covered it up and kept Blatt as CEO specifically because he was central to their plan to downplay the valuation. Pambakian is a plaintiff in the suit.
Rad said Pambakian told him about the incident shortly after it happened, and that when he confronted Blatt about it, the CEO threatened him. "I was told … 'If you take me down, I'm going to take you down with me,'" he told CNN.
IAC's statement did not respond to the lawsuit's allegations of sexual harassment against Blatt. CNN also reached out to Blatt for comment and did not receive a response.
This is not the first time there have been allegations of sexual harassment at the executive level at Tinder.
In fact one of the plaintiffs in the suit, and a co-founder of Tinder, Justin Mateen, was accused of sexual harassment in 2014. But unlike Blatt, who stayed in his job, Mateen, an ally of Rad, was forced to quit the company and lost half of his options.
A lawsuit by the alleged victim in that case — Whitney Wolfe Herd, who went on to found Bumble — against Tinder, Match and IAC alleged that Mateen harassed her and that Rad allowed the harassment to take place. It settled without an admission of wrongdoing by any of the parties.
Asked by CNN about it, Rad said that Mateen paid the financial consequences for his actions.
"That's not relevant to the fact that this company made promises to all the Tinder employees, including Justin, and reneged on those promises and overlooked the contracts they had with us," Rad said.
Taking on Barry Diller
By filing this suit, the plaintiffs are taking on one of the most powerful people in the world of technology and new media. Barry Diller, 76, is chairman not only of IAC but also of Expedia, the largest online travel company in the world. Forbes estimates his net worth at $3.1 billion.
CNN has also reached out to Diller for comment about the allegations in the suit in addition to seeking comment from IAC. It has yet to hear back.
Rad said it wasn't easy to decide to go up against Diller this way.
"No one wants to have to sue anyone," Rad said. "Especially a large, powerful corporation. It's terrifying."
Asked whether he thought Diller played a role in the alleged scheme, Rad said he looked forward to the facts coming out.
"I think when you're operating in a company for many, many years and you know, the mandate is that nothing important happens without one person knowing about it, you assume they know about everything that's happening. Especially something as significant as this."
CNNMoney (New York) First published August 14, 2018: 11:30 AM ET