Elon Musk: This has been the most painful year of my career
|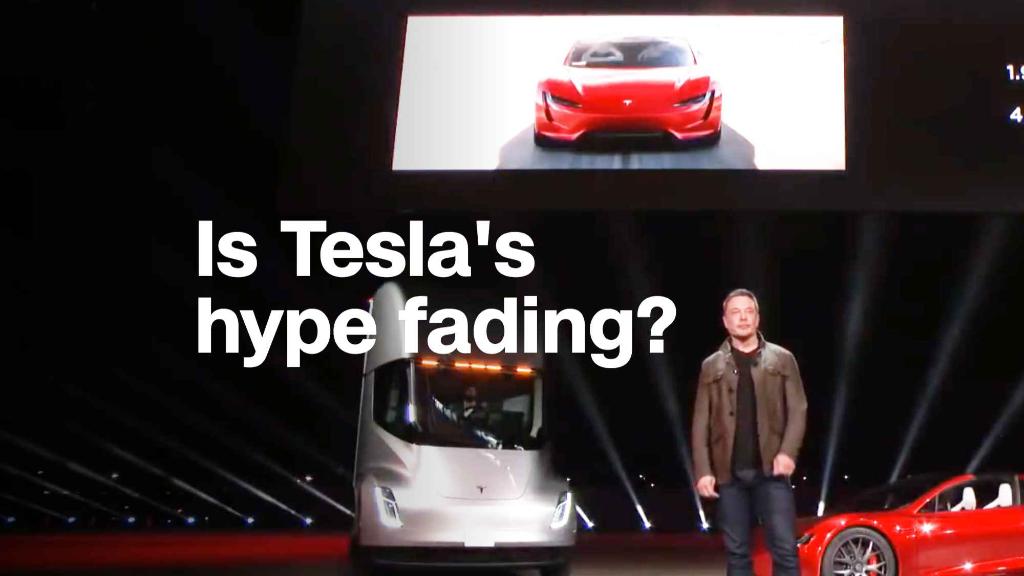 Elon Musk is hurting.
"This past year has been the most difficult and painful year of my career," he said in an emotional interview with The New York Times published late Thursday. "It was excruciating."
The interview — during which The Times said Musk "alternated between laughter and tears" — comes amid the turmoil the Tesla (TSLA) chief triggered last week when he tweeted that he had secured funding to take the electric car maker private.
The stunning announcement sent Tesla's stock on a wild ride, prompting lawsuits and reportedly drawing scrutiny from regulators.
Related: Could Elon Musk lose control of Tesla?
Musk told The Times that no one else saw the tweet before he posted it while en route from his house to the airport. He said he doesn't regret sending it and has no plans to leave Twitter (TWTR).
The billionaire entrepreneur dismissed speculation that the Tesla stock price he quoted in the tweet — $420 — was a hint that he was smoking pot. (April 20, or 4/20, is known as "Weed Day" in some circles.)
"It seemed like better karma at $420 than at $419," Musk told The Times. "But I was not on weed, to be clear. Weed is not helpful for productivity. There's a reason for the word 'stoned.' You just sit there like a stone on weed."
Tesla's stock has since fallen to $313 a share. It fell more than 6% Friday.
In a blog post earlier this week, Musk said that the "funding secured" tweet referred to conversations he had with Saudi Arabia's sovereign wealth fund, which left him believing there was "no question" that a deal could be closed.
Musk has argued that taking Tesla private would relieve the company of the "enormous pressure" of Wall Street's expectations. But there are doubts about whether he will be able to pull the deal off.
"There have been many false and irresponsible rumors in the press about the discussions of the Tesla Board," Tesla said in a statement. "We would like to make clear that Elon's commitment and dedication to Tesla is obvious. Over the past 15 years, Elon's leadership of the Tesla team has caused Tesla to grow from a small startup to having hundreds of thousands of cars on the road that customers love, employing tens of thousands of people around the world, and creating significant shareholder value in the process."
Friends 'are really concerned'
The storm set off by his tweet last week follows other difficulties at Tesla and the controversy over another post last month in which he insulted a man who helped rescue a group of Thai boys trapped in a cave.
As Tesla struggled to meet production goals for its Model 3 earlier this year, Musk ended up sleeping at the factory.
Asked if exhaustion was physically affecting him, he told The Times: "It's not been great, actually. I've had friends come by who are really concerned."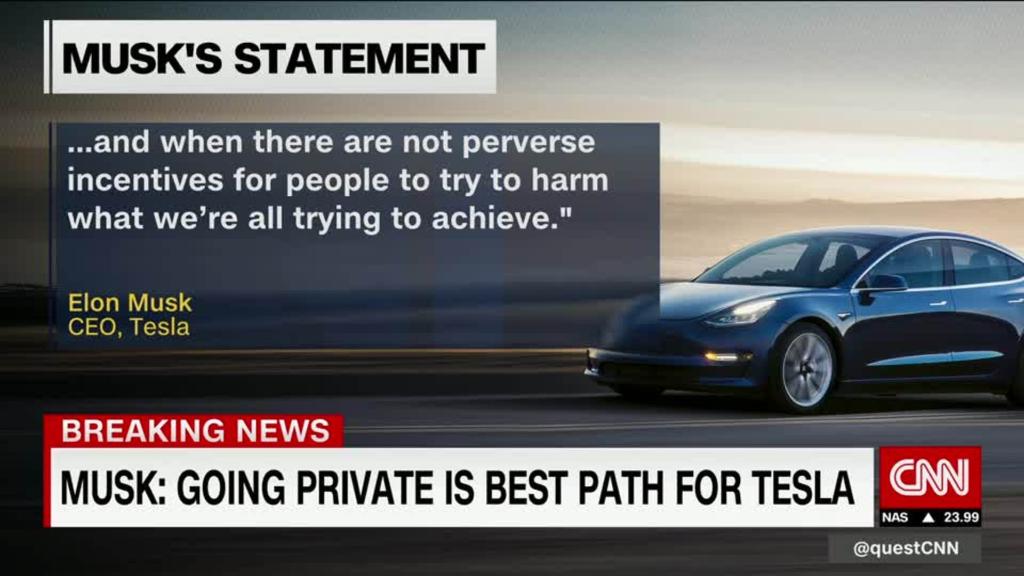 The 47-year-old, who's known for his relentless work ethic, said in the interview that he had recently been putting in as much as 120 hours a week.
"There were times when I didn't leave the factory for three or four days — days when I didn't go outside," Musk said. "This has really come at the expense of seeing my kids. And seeing friends."
"It is often a choice of no sleep or Ambien," he said, referring to an insomnia medication.
Related: Elon Musk says he expects Saudis to fund plan to take Tesla private
The worst is yet to come
Tesla managed to hit its Model 3 production target in June.
"The worst is over from a Tesla operational standpoint," Musk told The Times. "But from a personal pain standpoint, the worst is yet to come."
He attributed a lot of his stress to short-sellers who bet against Tesla's stock, saying he's preparing himself for "at least a few months of extreme torture from the short-sellers, who are desperately pushing a narrative that will possibly result in Tesla's destruction."
But Musk, who is also the boss of rocket company SpaceX and other ventures, said he has no plans to leave the CEO and chairman roles at Tesla.
"If you have anyone who can do a better job, please let me know," he told The Times. "They can have the job. Is there someone who can do the job better? They can have the reins right now."
CNNMoney (New York) First published August 17, 2018: 1:52 AM ET